Prior to having children I had all the time in the world to create elaborate, custom baby shower gifts.
Let's face it, with two kids under the age of five, a husband, a dog, stepson and two businesses to run making custom gifts are challenging.
In this season of life, it's my reality.
Time is a luxury I no longer have, but I don't want that to be my excuse for giving crappy gifts.
Having a baby is an exciting time for any rookie and veteran parents.
Package essential baby products with DIY cupcake onesies for one-of-a-kind last minute baby shower gift!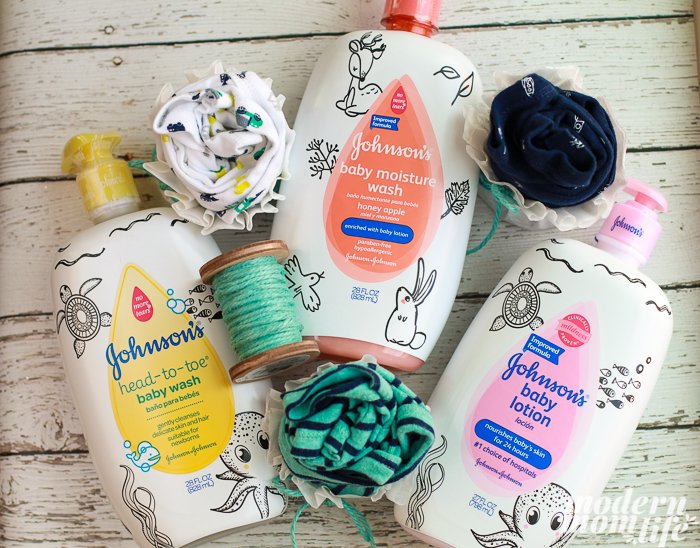 To enable screen reader support, press ⌘+Option+Z To learn about keyboard shortcuts, press ⌘slash
How to make a simple last minute baby shower gift
DIY Baby Onesie Cupcake Basket Supplies:
4 onesies
4 coffee filters
thin coordinating ribbon or string
scissors
a large basket
Johnson's Head-to-Toe Wash 28 oz.
Johnson's Baby Lotion 27 oz.
Johnson's Baby Wash Honey Apple 28 oz.
Gift Instructions
Fold the onesie in half and roll it up like pictured below.
Place onesie in the middle of the coffee filter.
Cut string long enough to wrap the "cupcake" secure.
Using the string tie it in a knot or bow to secure the cupcake onesie.
That's it! It's that simple! Most of these items you most likely have around the house especially if you are already a parent (coffee filters for the win!)
If you have more time and a larger budget consider placing baby socks or receiving blankets in the center of the cupcake (when you roll it up) to add dimension.

Place cupcakes within a basket filled with the new exclusive line of Johnson & Johnson baby products.
Make this time special for expectant moms by gifting them baby essentials packaged in a unique way.
New moms can rest easy knowing that these baby products are best for baby standards: no parabens or phthalates, hypoallergenic and these products are NOT tested on animals.

Who am I kidding?
First-time parents can rest well before baby arrives, but all bets are off once they debut because sleep is a thing of the past.
What piece of parenting advice do you give new parents? How do you make them feel special beyond the baby shower?
Pin to make this adorable baby shower gift idea