Get peace of mind with our free in case of emergency forms. One crucial step in emergency preparedness is having in case of emergency (ICE) forms filled out and readily available. Life is unpredictable, and emergencies can strike at any moment. Take proactive measures to ensure the safety and well-being of your loved ones. These forms contain vital information that can prove invaluable during times of crisis, enabling emergency responders to provide effective and efficient assistance.
Hopefully, you will never have to use these In case of emergency forms, but in the event that you do have an unlikely emergency, this simple form proves to be a valuable tool. This printable bundle has a place for you to store emergency contact information as well as important information needed during medical emergencies.
The importance of having emergency forms
In the event that an emergency situation occurs, being prepared can make all the difference. The seconds or minutes that it saves you from finding vital information could be life-saving.
Quick access to critical information: During an emergency, every second counts. Having emergency forms filled out and easily accessible ensures that vital information, such as medical conditions, allergies, medications, and emergency contacts, is readily available to first responders. This comprehensive documentation allows medical professionals to make informed decisions and provide appropriate treatment promptly.
Smooth communication with Emergency Responders: Emergency forms provide a clear channel of communication between family members and emergency responders. They include important details like primary physician contact information, preferred hospitals, and health insurance information. This information streamlines the process for emergency personnel, allowing them to reach out to the relevant medical professionals and facilities quickly.
Ensuring Child Safety: These forms include details such as the child's full name, date of birth, allergies, medical conditions, and authorized individuals for pick-up. Ensure that children receive the necessary care and are entrusted to the right individuals.
Peace of Mind During Travel: When families are on vacation or traveling, having emergency forms becomes even more essential. Being away from home means unfamiliar surroundings and potential language barriers, making it challenging to communicate critical information effectively. Having emergency forms filled out can bridge this gap, providing peace of mind by having all the necessary information readily available.
Prompt Notification of Emergency Contacts: Emergency forms typically include a list of emergency contacts, such as family members, friends, or neighbors who should be notified in case of an emergency. Ensure that your designated contacts can be informed promptly, minimizing potential delays in getting the assistance and support your family needs.
Printable In Case of Emergency forms
Have peace of mind and spend a few minutes filling out ICE forms you can easily access!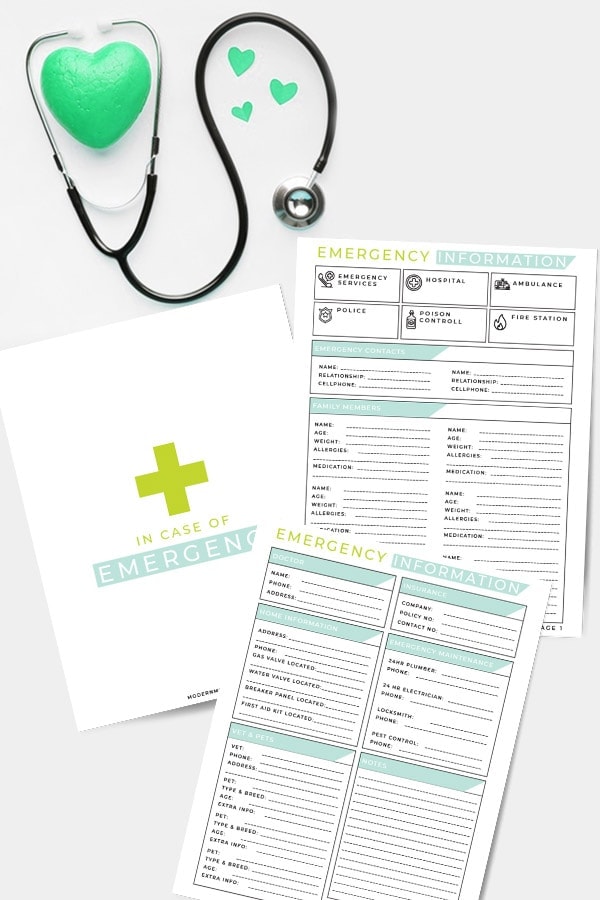 Supplies
White Paper or Cardstock – I find cardstock paper looks best and makes the colors really pop!
Pen or pencil
Activity Prep
Download the ICE forms by subscribing below or shop here for a small fee.
Print the form and print out as many of you need.
Using a pen or pencil, complete all the forms that are applicable to your family. Provide accurate and up-to-date information.
Next, Share the form with your emergency contacts or babysitters.
(optional) laminate the ICE forms. The documents will hold up better over time.
The Free Ice Forms Include the Following Sections:
These emergency forms include essential information with different sections on each page. Check out all the form fields below:
ICE Form Information: Page One
Emergency Services: Write down any emergency services you prefer. Include a nonemergency number.
Hospital: Write down your preferred hospital.
Ambulance
Police
Fire Station
Poison Control: The national, toll-free Poison Help line, 1-800-222-1222, connects you to your local poison center and is your resource for help in a poisoning emergency. You can call from anywhere in the United States and many territories. Find a local Poison Center here.
Emergency contact details: Ensure that your emergency contacts are well-informed and prepared by giving them a heads-up that they are included in your emergency contact details. It's also a good idea to provide them with a copy of the form for their reference. By doing so, you are empowering your loved ones to be aware of their role in case of an emergency and ensuring that everyone is on the same page when it matters most. Including your emergency contact's home and work addresses of your emergency contact allows responders or support personnel to locate them if needed, especially in situations where phone or email communication is not possible.
Family members: List all your family members' information here. Include any known allergies, weight, height, and any medications each person in your family takes. There is room for six family members. If you need more space, print another copy of the first page.
ICE Form Information: Page Two
Medical Information including doctor information
Insurance information: Include the company, policy number, and contact information of your health insurance.
Home Information: Include your home address, phone number, gas valve, and water valve location. Also, include the locations of where your breaker panel and First aid kit.
Emergency maintenance: Leave phone numbers for your preferred plumber, electrician, locksmith, and pest control contractors.
Vet and Pet information: Include the contact information of your family's vet. Also include details on each of your pets including the breed and age.
Notes: Use this section to write down additional relevant information that is important to know in emergency situations.
Date and Signature: Sign your name and write your signature.
Who should I add as an emergency contact?
In many situations, emergency contacts typically consist of a cherished individual, such as a parent, spouse, adult child, or trusted friend. If possible have a minimum of TWO emergency contacts. This ensures that they can collaborate effectively or, if one is unavailable, the other can step in and assume responsibility. Having multiple emergency contacts enhances preparedness and provides a reliable support system during critical moments.
Where should you keep ICE forms?
Keep your personal information in a safe and secure location that is easily accessible to medical personnel. Store the form in a weatherproof safe or a folder or binder.
Use this babysitter form in addition to the ICE form and keep them on the fridge or a place the sitter can have easy access.
When traveling, keep the forms in a safe spot like the hotel safe.
Give a close friend a copy of your ICE forms.
Consider uploading a scanned copy on your Google Drive to have a digital copy in case you find yourself in the midst of natural disasters and unable to find your things.
When to use your ICE forms
Medical Emergencies – Having an ICE form readily available for medical professionals can provide an additional piece of mind.
Traveling – Bring your ICE forms when traveling in case of accidents and emergencies.
For Kids and Seniors: Provide the forms to caretakers in case of an emergency.
Large-Scale Emergencies: In the event of a natural disaster such as an earthquake or tornado, an Emergency Contact Form can help relief organizations provide support
Personal Crises: During times of personal crises, such as mental health emergencies, financial hardships, or legal troubles, having an Emergency Contact Form can play a crucial role in enabling friends, family members, or support professionals to provide assistance and guidance.
More Emergency Readiness Preparedness Resources
Ensure that your essential contact information is well-organized, easily accessible, and readily available. By proactively using these forms, you can enhance your preparedness and facilitate seamless communication during challenging times.
Get the Files
Enter your first name and email address in the form below to get your free download in pdf format. You will receive a link to download the free pdf download instantly.
If you do not want to subscribe, you can purchase the forms in my shop here.
The PDF will include:
Cover sheet
One page that includes emergency contacts, hospital information, police, etc.
One page includes medical health information, home information, vets and pets, home information, and a notes section.
If you do not immediately receive the email, make sure to check your promotions, spam, and junk folders!
SHARE ON SOCIAL MEDIA
If you love free printables you will love all the ones I am pinning right now. Follow me on Pinterest for more printables you can use.