Get your kids into the holiday spirit with our free printable Christmas Wish List! Let their imaginations run wild as they fill out their most heartfelt desires. Download and print now to make their Christmas dreams come true. Kids of all ages enjoy filling out these free printable Christmas lists. Enjoy this time of year in a fun and organized way by having your kids's favorite things in one spot.
Disclosure: This blog post contains affiliate links. As an Amazon Associate and member of other affiliate programs, Modern Mom Life LLC earns a commission from qualifying purchases at no additional cost to you.
Free Printable My Christmas Wish List for Kids
Busy moms can't afford to waste time wondering what their children want for Christmas. Save time by using our free Christmas gift list.
Download and print our free Christmas Wish List in minutes. This wish list printable breaks down your children's holiday wishes into seven fun sections (with plenty of space each) that include:
What your kids want: what did he or she circle in the toy catalog? Perhaps it's a video game or the latest trending toys.
What your kids need. Perhaps, they need a new pair of shoes.
Items they can wear: What winter clothing do they need for school?
What books does he or she want to receive? Books make the best gifts!
A place to write down what holiday activities he or she would like to do: Does this include watching Christmas movies with a cup of hot cocoa? Perhaps it's finding a real Christmas tree for the first time. The options are endless!
A section that focuses on family wishes for the holiday season! Perhaps your children want to express how much they love spending time together or they would like to put up more Christmas decorations outdoors.
Finally, a simple question for the child to answer if he or she has been naughty or nice this year.
Activity Prep
All you need is a few supplies to get started:
White Paper
Printer with colored ink
Pens, pencils, markers or crayons.
How to use a Christmas Wish List
Using a Christmas wish list for kids is a fun and helpful way to make sure their desires are known and can be considered during the holiday season. Here are some simple steps to follow:
Download and print: Find a free printable Christmas wish list template online or use ours for free by subscribing to our e-newsletter at the bottom of this post. Print multiple copies to accommodate different gift ideas.
Sit down with your child: Set aside some time to sit down with your child and explain what a wish list is. Encourage them to think about their favorite toys, books, games, or other items they would like to receive as gifts.
Write down their wishes: Have your child write or draw their desired gifts on the wish list. Help younger children by writing down their ideas for them.
Prioritize and limit: Discuss with your child which items are most important to them. Remind them that they may not receive everything on their wish list and that it's important to be grateful for whatever they do receive.
Share the list: Once the wish list is complete, share it with family members, close friends, or anyone who might be interested in getting your child a gift. You can send the list via email, text, or even post it on social media.
Keep track: As gifts start coming in, mark them off the wish list to keep track of what has been received. This will help avoid duplicates and ensure your child receives a variety of gifts.
Tip: It's always a good idea to hide their Christmas list printables so they don't find them once you mail them to Santa Claus.
Remember, a Christmas wish list is just a guide, and it's important to teach your child about gratitude and appreciating the thought and effort put into each gift they receive. Happy wish-listing and happy holidays! May your Christmas morning be special and free of holiday stress. Christmas gifts are a blessing to receive but it's not the true reason of the season. The good news is this printable opens your children's eyes to just that.
Free Christmas Printables
The holiday fun doesn't stop here! Enjoy a variety of free Christmas printables to use this Christmas season:
Dear Santa Letter – The ultimate Dear Santa bundle that includes a free letter to Santa template and envelope.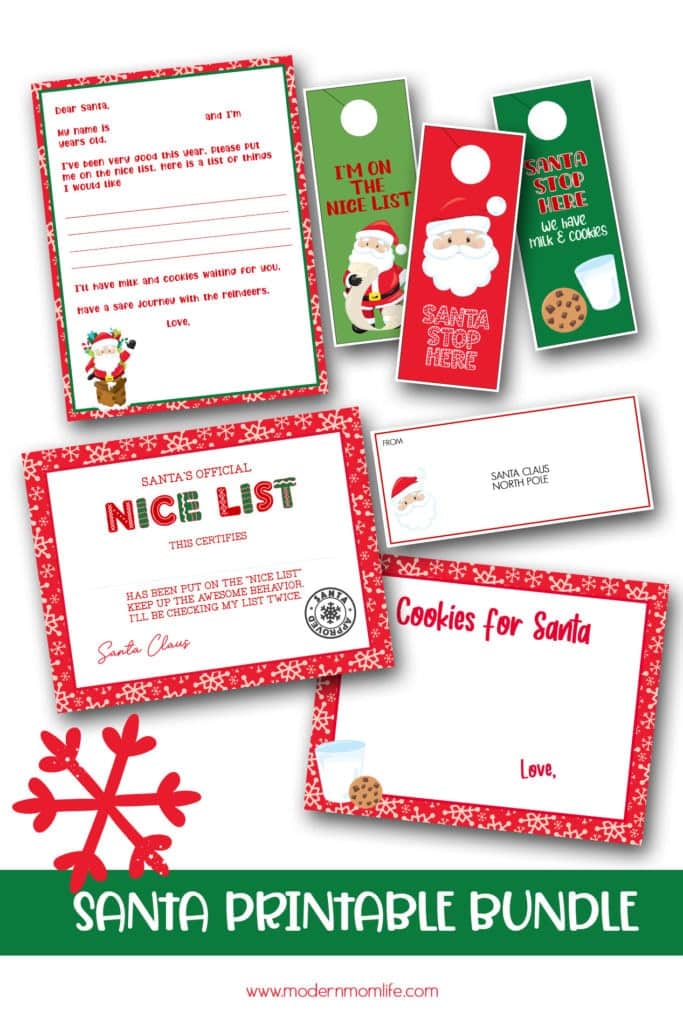 Holiday Planner – Stay organized with your holiday shopping with this Christmas gift planner that also includes funny Christmas gift tags.
Free Elf on the Shelf Printables
Elf on the Shelf Bad Behavior Letter – Help your child avoid Santa's Naughty list and encourage them to make better choices with the help of an elf letter.
The Ultimate Elf Printable Bundle Pack – Grab all of our Elf on the Shelf Printables for one price!
Elf on the Shelf Report Card – These elf report cards encourage and track positive behavior! Write down any good deeds your child has done and recognize them for their good efforts.
Elf Goodbye Letter – Say goodbye to your household elf with a custom Elf leaving letter.
Urgent Elf Recall Letter – Need a break from this tradition? The North Pole needs your elf's help to save Christmas Day.
30 Days of Elf on the Shelf ideas – includes a printable calendar to keep you organized. Tip: Hide the calendar from kids. Parents can easily download and print them at home. Quickly incorporate new ideas and activities into their elf's daily mischief.
Get the Free Printable
Get the pdf file instantly. Note: this letter is NOT an editable file. First, enter your first name and email address in the form below to get the printable in a PDF format. You will receive an instant digital download and the file will be sent to your email address within minutes.
If you would not like to fill out the form, you can get access to the printable in my shop here. The PDF will include 2 pages including a cover page:
Christmas Wish List (one page)
If you do not immediately receive the email, make sure to check your promotions, spam, and junk folders!
Terms of use: This item is for personal use only. Commercial use of these print files is prohibited! The actual files may NOT be shared, sold, given away, traded, or transferred to anyone else in any form.
Share on social media!
Sharing is caring! Forward this free Christmas download to friends and family! For more easy ideas for holiday fun and free printables follow us on Pinterest, Instagram, and Facebook.