Thank you to the Chinet® brand for sponsoring this post.
Someone once told me that times moves even faster once you become a parent. I brushed it off until I found myself years later married with kids wondering what happened to time. Now, my life is non-stop. Having an on-the-go lifestyle can make it challenging to stop time to enjoy the things that matter most.
For me those things are family, gratitude and coffee.
Those are three things that I want to stop time for.
I combined my love of coffee and gratitude to create a Thanks a Latte Gift Basket for my daughter's teachers who I consider a part of our family.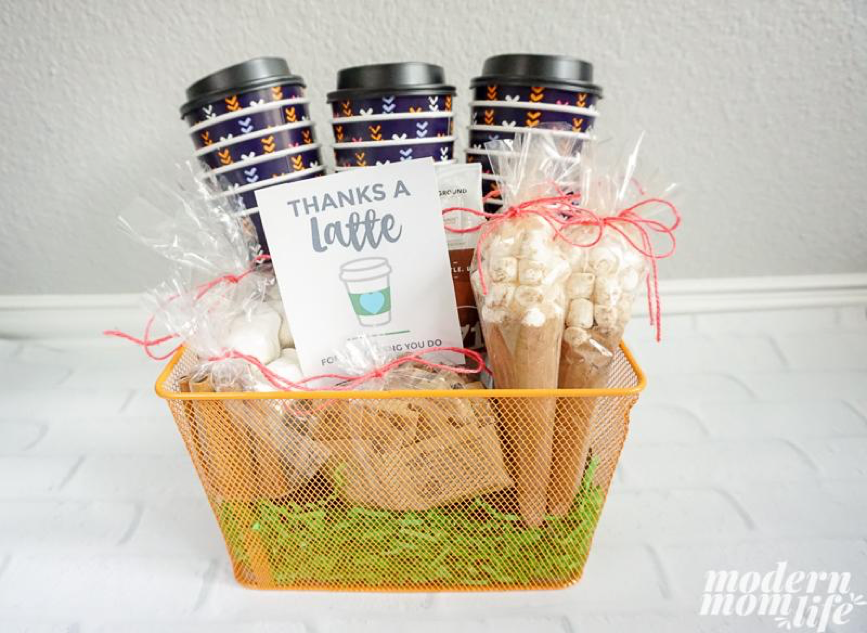 Click on the image above to shop!
This gift basket is perfect for people who are on-the-go and enjoy coffee in a convenient and stylish commuter cup. I included several Chinet® Comfort Cup® insulated hot cups in the basket in case other teachers wanted to join in on the treat. Remember, sharing is caring! Teachers need all the support we can give them and I am happy to spoil them! They do so much for our children.
Show You Care with a Thanks a Latte Gift Basket
Supplies
Sugar packets
Creamer
Clear bags
Clear cone bags
Ribbon or Jute
Cinnamon
Coffee grounds
Hot chocolate mix
Mini Marshmallows
Crinkle Paper
Basket
Popsicle stick
Instructions
Place crinkle cut paper in the bottom of the basket. Divide the hot cups into thirds and stack in the back on top of the lids. Fill the plastic bags with separate items (creamers, sugar packets, and cinnamon) and tie with ribbon. Place all items into the basket and glue the Thanks a Latte printable to a popsicle stick to include in the front.
Don't have time to make a basket? No problem! Simply punch a hole in these smaller Thanks a Latte Gift tags and tie it around the coffee cup for a quick thank you gesture!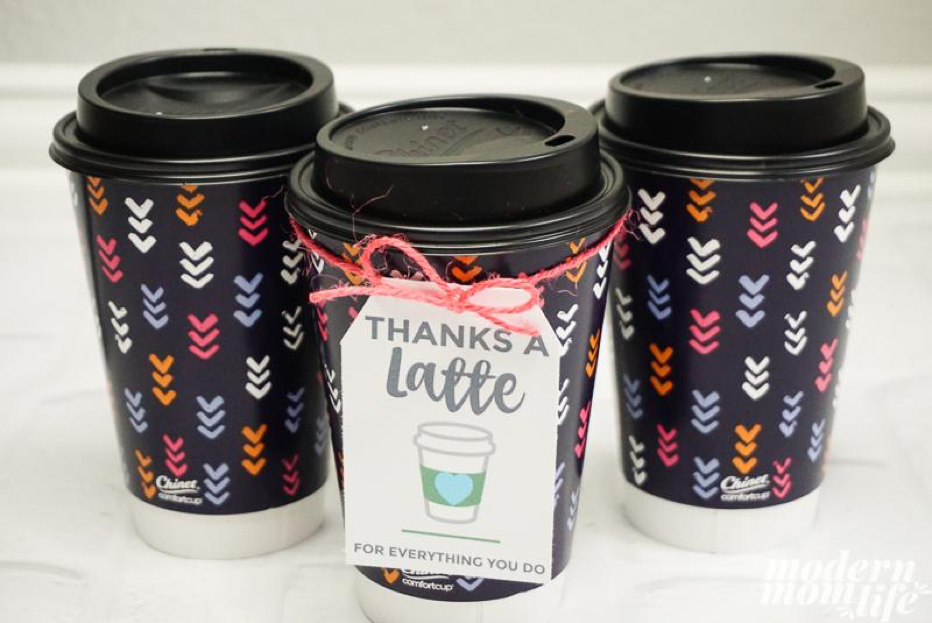 Click on the image above to shop!
As someone who is always in my car running errands, I make sure to treat myself to my freshly brewed coffee from home in the Chinet Comfort Cup insulated hot cup.
Each Chinet Comfort Cup insulated hot cup is designed with double layer insulation to keep drinks at the perfect temperature and eliminate the need for sleeves.
The snap-and-go lid allows for easy, one-handed drinking which is a must for me since I always have a baby on my hip.
Get creative with the Thanks a Latte Free Printables and Chinet Comfort Cup insulated hot cups!
No matter how busy our lives get, we must always take the time to show gratitude to others.