This creamy Chicken Noodle Casserole is the perfect comfort food! It's packed with flavor and the sautéed vegetables are a crowd pleaser.
This dish makes a lot of food which is why I have been munching on it all week long for lunch.
It's that delicious and quite addicting. I blame it on the cream cheese mainly.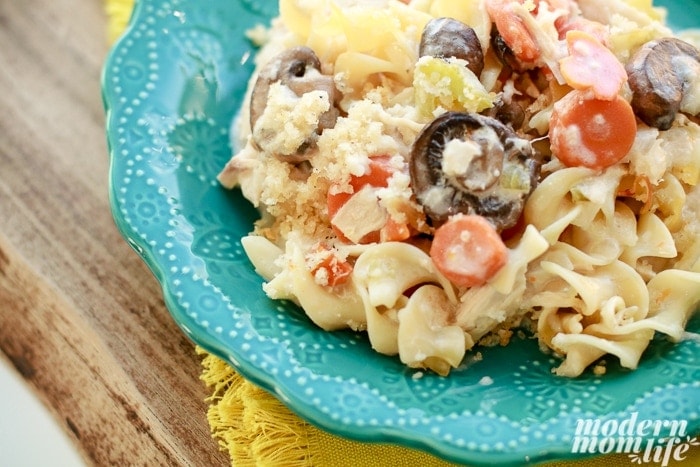 How to make Creamy Chicken Noodle Casserole
Creamy Chicken Noodle Soup Casserole
A unique spin on Chicken Noodle Soup in a delicious casserole dish! 
Ingredients
2 cooked chicken breasts, chopped (about 2 cups)
Instructions
Preheat oven to 400° F.
In a medium bowl, combine panko bread crumbs, melted butter, salt and ground black pepper. Set topping ingredients aside.
Add olive oil to a 7-quart stock pot, and sauté mushrooms, celery, carrots, onions and garlic powder for 3 to 4 minutes over medium heat. Add chicken broth and thyme sprig and bring to a boil, stirring occasionally.
Add cream cheese, Parmesan and uncooked noodles. Stir until well blended. Sprinkle flour over top of mixture. Stir and cook for 1 to 2 minutes, or until mixture begins to thicken.
Fold in chicken. Pour into a 3-quart casserole dish. Sprinkle on reserved topping mixture.
Bake uncovered 15 minutes.
Remove from oven and let stand 10 minutes.
My daughter helped me make this dish and afterward she proclaimed, "It was the best meal ever!" She actually ate more than a few bites which made me happy!
That's a win in my book! Everyone in my family raved about this recipe. I am definitely going to put this meal in our meal planning rotation.
Also, with the winter season ahead this truly is a comfort meal to enjoy. I will admit my daughter made me pick out her mushrooms. I was hoping to sneak them past her, but she is too sly for me. She did eat the carrots so I will take that. Small victories!
Have you tasted a chicken noodle casserole before? Get inspired to make new recipes this season.
Remember to pin this Chicken Noodle Casserole recipe